---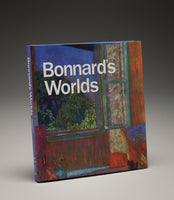 by George T. M. Shackelford
With Elsa Smithgall
Contributions by Isabelle Cahn, Cyrille Sciama and Veronique Serrano
A fascinating journey into Pierre Bonnard's world and the inspiration behind his spatially arresting and intimate paintings
 
Pierre Bonnard's paintings are renowned for their unusual intimacy. Delving into the sensory realms of experience that fueled Bonnard's practice—from the most public to the most private—this volume looks at the inspiration behind the artist's work. Through the lens of more than 70 works, including many largely unknown examples from private collections in addition to celebrated paintings from museums around the world, scholarly essays transport the reader into Bonnard's world and shed new light on the artist's unique life circumstances. Governed neither by chronology nor geography, but by measures of intimacy, this study travels with Bonnard through the landscapes of Paris and Normandy, to the interior spaces of the artist's dwellings, and deep into the artist's thoughts.  
208 Pages
,
10.00 x 11.00 in
, 175 color + b-w illus.