---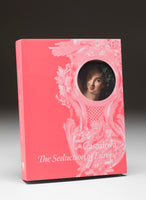 In eighteenth-century Europe, while the old order reveled in the luxurious excesses of the Rococo style and the Enlightenment sowed the seeds of revolution, the shape-shifting libertine Giacomo Casanova seduced his way across the Continent. Although notorious for the scores of amorous conquests he recorded in his remarkably frank memoirs, Casanova was just as practiced at charming his way into the most elite social circles, through an inimitable mix of literary ambition, improvisational genius, and outright fraud. In his travels across Europe and through every level of society, from the theatrical demimonde to royal courts, he was also seduced by the visual splendors he encountered. 
This volume accompanies Casanova: The Seduction of Europe, the first major art exhibition outside Europe to lavishly recreate Casanova's visual world, from his birthplace of Venice, city of masquerades, to the cultural capitals of Paris and London, and the outposts of Eastern Europe. Summoning up the people he met and the cityscapes, highways, salons, theaters, masked balls, boudoirs, gambling halls, and dining rooms he frequented, it provides a survey of important works of eighteenth-century European art by masters such as Canaletto, Fragonard, Boucher, Houdon, and Hogarth, along with exquisite decorative arts objects. 
Twelve essays by prominent scholars illuminate multiple facets of Casanova's world as reflected in the arts of his time, providing a fascinating grand tour of Europe conducted by a quintessential figure of the eighteenth century as well as a splendid visual display of the spirit of the age.